Tuesday, January 17, 2017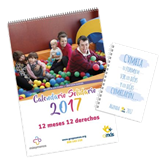 Following the success of five previous editions, the Amás Group will again present its 2017 solidarity calendar this year under the motto "12 months, 12 rights", in which famous people from the world of cinema, music, culture or Journalism to claim the causes of the organization.
Agatha Ruiz de la Prada, the actresses Adriana Torrebejano and Ruth Núñez; singers like Gemeliers or Natalia and Gisela of OT, sportsmen of the stature of Emilio Butragueño or journalists like Juan Ramón Lucas have wanted to collaborate with the Amás Group, that defends and promotes the rights of the people with intellectual disability so that they manage to develop their project of life and social inclusion.
Through each of the calendar photos that illustrate different scenes of daily life, the organization aims to explain what these tasks mean for people with disabilities. And the message to be transmitted is that happiness can be found at any time and in situations as common as the previous ones in which the differences do not take place.
One of the novelties of this edition is the emergence of the solidarity, practical and fun agenda and full of positive messages, whose purchase, as well as the calendar, will also help finance the projects that the Amás Group intends to develop, such as financing in Early Care, the treatment of children with intellectual disabilities and in situations of vulnerability.
At Veldis we are committed to defending the rights of people with different capacities as well as those of their families, and for this reason we have wanted to collaborate for another year in the 2017 solidarity calendar of the Amás Group, through the brands Parmalat, Hao Chi And Gulden's.