Tuesday, December 20, 2016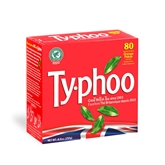 Alone, with a touch of lemon or milk ... Enjoy tea time in the purest English style.
TYPHOO is the English tea brand par excellence that has more than 100 years of experience. You will not find any tea more genuine than TYPHOO.
Delight in this exquisite black tea and indulge in a TYPHOO moment.
http://www.veldis.com/en/catalog/brews/typhoo