Tuesday, December 27, 2016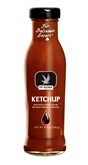 When the best Italian IGP vinegar joins the best quality tomatoes, DE NIGRIS arises, a unique combination. A delicious Ketchup with a touch of balsamic vinegar IGP.
A delicious and amazing taste to season almost any dish.
Do not miss the opportunity to try DE NIGRIS.
http://www.veldis.com/en/catalog/sauces-and-mustards/de-nigris