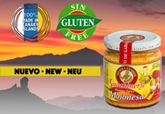 At Mojos Guachinerfe, they have been spending several months testing a new sauce concept. Keeping on with their tradicion of using only the freshest and best quality ingredients, comes the new MOJONESA. The perfect combination between tipical mojo and traditional mayonnaise, which leaves in our palate a delicious flavor with a spicy touch. 
It´s a very versatile sauce. It´s perfect as a starter, with some toasts, as accompaniment for meat, fish, vegetables...It is also combines very well with salads, russian saladas, sandwiches...
Because... we are sure that MOJONESA will became in the star of all your dishes.