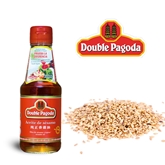 From Singapore, we present the sesame oil DOUBLE PAGODA.
Besides being used in cooking for its great taste and aromatic power, it is also a therapeutic product and with countless benefits.
The fatty acids in sesame oil help in the acceleration of wound healing, stimulate tissue repair, provide interesting amounts of unsaturated fats, proteins, vitamins, minerals ...
Know  DOUBLE PAGODA and immerse yourself in a world full of culinary possibilities.