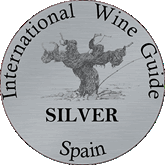 The weekend comes and we all start to make plans in our head; A dinner with friends, perhaps with our partner, an evening where we go out for a drink, stay at home and invite our friends to have a good time ...
While it is true that any of these plans sounds great, it is always better if they are accompanied by a good wine.
An intense red for a succulent meat dish, a balanced white for a light fish dish, or a fruity pink as an accompaniment to an entertaining conversation.
With the economic crisis, the wine world has suffered in Spain a great decrease in sales in the last year 2016, as Viniculture National Institute indicated but surprisingly, this has not happened with the Italian wine Lambrusco.
In fact, far from drecrease its sales, it has become one of the best-selling wine in the world. Many are the reasons why this great broth continues to add sales around the world. One, is that it marries perfectly with a large number of dishes and it doesn't mask the taste of them. It is easy to drink, with an affordable price and why not to say it ... It is aldo delicious.
But ... then why is Lambrusco in the spotlight of all criticism? Easy. There is simply a lot of false Lambrusco.
Supermarkets offer us "Lambruscos" that although it does not appear in them by any side such denomination, through attractive labels with the colors of the Italian flag and a price more than seductive, we make us fall into the temptation of buying IT without realize that we are not acquiring an authentic Lambrusco wine.
But not only Spanish wines deteriorate a category that does not deserve such contempt. Some Lambruscos, who come from those italian areas intended for cultivation of this kind of grape, prefer to dispense with their export quality, and offer the Spanish consumer, not only in supermarkets but also in Italian restaurants, wines that do not meet the expectations of consumers who really appreciate the wine.
There is no doubt that Lambrusco is a good wine and as proof of this, the competition "International Wine Guide Awards", which took place last January and was organized and developed by the Internet portal Catavinum, whose goal is, among others, to inform both the private and the professional consumer about the assortment and the quality of the wines.
Catavinum with more than 15 years of experience in the world of wine competitions and whose jury is a committee of blind tasting, awarded the silver medal in its category to 3 of our prestigious wines: Lambrusco Quercioli Rosado DOC, Lambrusco Grasparossa Red DOC and Lambrusco Concerto Tinto Seco DOC, all of them under the brand MEDICI ERMETE whose quality is typical of an authentic Lambrusco. These genuine Lambrusco wines come from the regions of Reggio Emilia and Modena, the two most important production areas of Lambrusco in Italy.
And it is clear that the choice and selection of wine is something very important and with Medici Ermete, you will be sure.