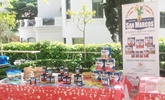 In 2010 UNESCO declared Mexican cuisine intangible cultural heritage and of their historical, cultural, social and economic importance. Currently, the Mexican government has decided to establish a policy for promotion and to publicize worldwide variety and uniqueness, for so also ensure, through gastronomy, an element of sustainable development in the future.
Therefore, the Embassy of Mexico, the Tourism Board of Mexico and ProMéxico have organized the First Gastronomic Day of Mexico in Madrid. On May 4, importers, distributors of food and beverages and delegates from numerous Mexican restaurants gathered at the residence of Ambassador who opened its doors to meeting all industry representatives who wanted to contribute to the spread occurred Mexican cuisine and to learn about new business opportunities offered by this market in Spain.
In Veldis we not hesitate to accept the invitation to attend the event. And it also wanted to support the spread of Mexican food by providing a fresh and gender quality.
Among the products presented, he couldn't miss San Marcos, leading brand in Mexico and the US and introduce products such as refried beans with chilpotle, sliced jalapeno peppers for nachos, Peppers Chipotle marinated, pickled tender nopales, salsas and pico de gallo, chilpotle or green, among others.
Other products that didn't leave indifferent attendees were BC Sugar, sugar cane mixed with stevia, and Mascabado, authentic flavors raw cane sugar, or artificial colors. And in Veldis we committed to offering only the finest merchandise to the delight of those who were interested to know a little more typical Mexican flavors in the First Gastronomic Day in Madrid dedicated to it.