Thursday, December 18, 2014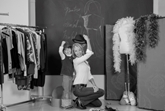 One more year, VELDIS wanted to participate in this calendar whose proceeds are intended for early care center of AMAS group, an outpatient service that responds to families with 0-6 year-children with a disability or impairment in intellectual development.
The protagonists, children, have been accompanied by many familiar faces as the actors Mario Casas, Belén Rueda or Macarena Gómez; professionals from the music world as Ondina Maldonado or Ivan Nieto; and comedians of the stature of Santiago Rodriguez.
VELDIS, who participated with the brands KEN'S, American sauces, and MEDICI ERMETE,Italian Lambrusco wine, attended the presentation ceremony, where, with Rubén Sanz as emcee, he thanked all those who, with their help and effort make these events possible.
Some pictures of this special calendar ...