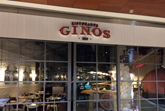 Italian restaurant Ginos' staff received on January 19th in Madrid one of the partners of Medici Ermete, Pierluigi Medici, and the commercial director of Veldis, José Miguel Velasco, with the aim of offering the best advice to its customers as to the offer in wines that the establishment disposes of for its diners.
In this way, the waiters received all the information related to the most popular Italian wine, the lambrusco that comes from the Medici wineries. From the selection of the grounds and grapes for its elaboration process, to the characteristics as to the flavor and aroma of the different types. Special features of the lambrusco Reggiano D.O.C. dry and sweet, to accompany with pastas and cheeses, as well as the lambrusco dell'Emilia pink and white ideal during the starters and desserts.
However, criticism of the lambrusco continues to be very frequent as a result of its versatility and its excessive success among the few fans in the wine sector. However, the lambrusca grape produces one of the best wines in the world, as certified by the designations of origin that designate the quality of the lambrusco, such as the Medici.
So, after the tasting of the same and the training that now has Ginos' staff, restaurant's dinners will enjoy the wine with the best pairing according to the dishes of the menu. And is that the initiative proposed between Medici Ermete, Veldis and Ginos is none other than to offer the consumer the quality of the best lambrusco and an unsurpassed service.