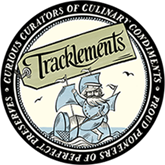 The Anglo-Saxon brand Tracklements has become, for a sixth consecutive year, the best English brand of sauces and chutneys thanks to its commitment and effort to improve its customer service and its wide range of products, which have also been awarded several times.
This award has been endorsed by The Guild of Fine Food, an organization with more than 1,300 members of the United Kingdom and established in 1995 that rewards the quality of the regional foods and that was born with the aim of helping to the businesses and restuarantes to select truly distinguished products.
And if that were not enough, our beloved Tracklements can proudly announce that it has also been proclaimed winner of the Waitrose Way Awards, a foundation created in 2005 whose purpose is to improve the quality of life of all workers in the food distribution chain and whose award recognizes the great dedication in the search of the best ingredients as well as to build a solid and lasting relationship with its suppliers, improving its recycling policy and taking care of the environment, with which Tracklements is highly aware.
And as it shows a button and is that all these merits, are unquestionable when trying any of their sauces, all of them made with natural products and free of dyes and preservatives.
The blueberry sauce at Oporto Tracklements is made from the whole berry and taste for its great flavor and intensity being this the best accompaniment for turkey meat.
Cumberland sauce is ideal with any game meat and poultry. With a slight orange flavor, it is also excellent with pates and foies. Try adding it to the pan. Simply delicious.
By all is known the relation between the dill sauce and the salmon. Tracklements makes your sauce with the freshest dill and the right proportion of mustard.
The authentic and traditional Mint Sauce is from Tracklements. Fresh mint freshly minced along with the best cider and lemon vinegar. Everything as it characterizes Tracklements, with purely natural ingredients. This sauce is exquisite with lamb.
Finally, the crown jewel; the caramelized onion. The first caramelized onion in England. Made with red currant juice, which gives it a more intense and pleasant flavor. Wonderfully versatile, it is excellent with pâtés, cheeses... and irresistible over sausages. A delicious dressing to accompany meats and fish, as well as seasoning endless snacks.
Discover the range Tracklements, simply superior.