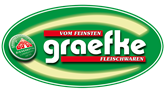 The genuine and authentic sausages Graefke present its new and attractive design.
In it, we can see one of the most important characteristics of three of its varieties, Bockwurst, Appetizer, and Knacker. They are smoked in beech wood, which gives them a peculiar and unique flavor. Do not stop eating them!
Try also the specialty Bratwurst-Griller, a white sausage particularly exquisite in barbecue and iron. All of them delicious.