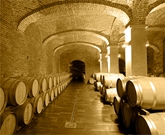 The ancient cellars of GANCIA, sparkling wine originating in Italy, have been recognized as world heritage united nations education, science and culture (UNESCO), underscoring the historical importance of the production of sparkling wine and GANCIA birthplace of the brand Canello, the heart of the Italian region of Asti.
Also known as "The underground cathedrals", GANCIA cellars are a symbol of the strong relationship between viticulture and Piedmont area.
Carved out of Canelli´s calcareous tuff centuries ago, the cellars provide a perfect natural thermal insulation with a constant temperature 12-14 degrees Celsius (54-57 Fahrenheit), ideal for the preparation and refining of great sparkling wines.
The cellars are a underground secret labyrinth streching for almost one kilometer, with a unique 100 meter-long cellar, the longest in Canelli. It was in GANCIA cellars where Carlo Gancia in 1865, created the first Italian sparkling wine.
Now you can find in VELDIS this authentic and genuine wine at any of its three varieties: Asti Spumante DOCG, Moscato d'Asti DOCG Moscato Spumante and Rosé.