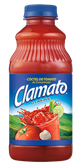 Clamato is a combination of tomato juice and clam juice that was born 50 years ago with the intention of devising a cocktail with seafood flavor, similar to the popular Manhattan made of whiskey and vermouth. At present, this preparation is very common in America and UK, as part of some popular cocktails and several gourmet recipes.
Thus, the most known Mexican drink, Michelada, it is made with this product and other ingredients like beer, ice, salt, pepper and tabasco sauce. To make the frosting you will have 4 salt tablespoons, 2 chill powder teaspoons, oregano and lemon juice, then mix it all on a plate, except the lemon juice to put it together with spices. After frosting the glass, throw ¼ of an ice cup, Clamato, beer, salt, pepper and enought tabasco. Decorate with a slice of lemon, and enjoy!
But Clamato is not only used to make Micheladas, so it is the main ingredient in other cocktails made with beer as the Beer 'n Clam or Bloody Caesar, similar to traditional Bloody Mary. To make it work, just change tomato juice by Clamato and mix it with vodka, a few drops of Worcestershire sauce and some tabasco, salt, pepper and ice. Frost the glass with lemon, salt and chili powder. It also can be decorated with celery and lemon. 
The taste of Clamato brings to the drink an original flavour. Therefore you can make several cocktails included those which contain tequila or vodka, and also help to make the hangover symptoms dissapear.
But Clamato can be also consumed as soda, or as an ingredient in countless tasty recipes and easy to prepare. For example, to make an exquisite ceviche shrimp, you only need to mix in a bowl shrimp, onion, jalapeno, cucumber and cilantro then add lemon juice and Clamato. Let it cool and enjoy this tasty dish, perfect for summer, or try Clamato in other recipes like chicken tacos, spicy grilled wings, pasta salad ... The possibilities are countless.